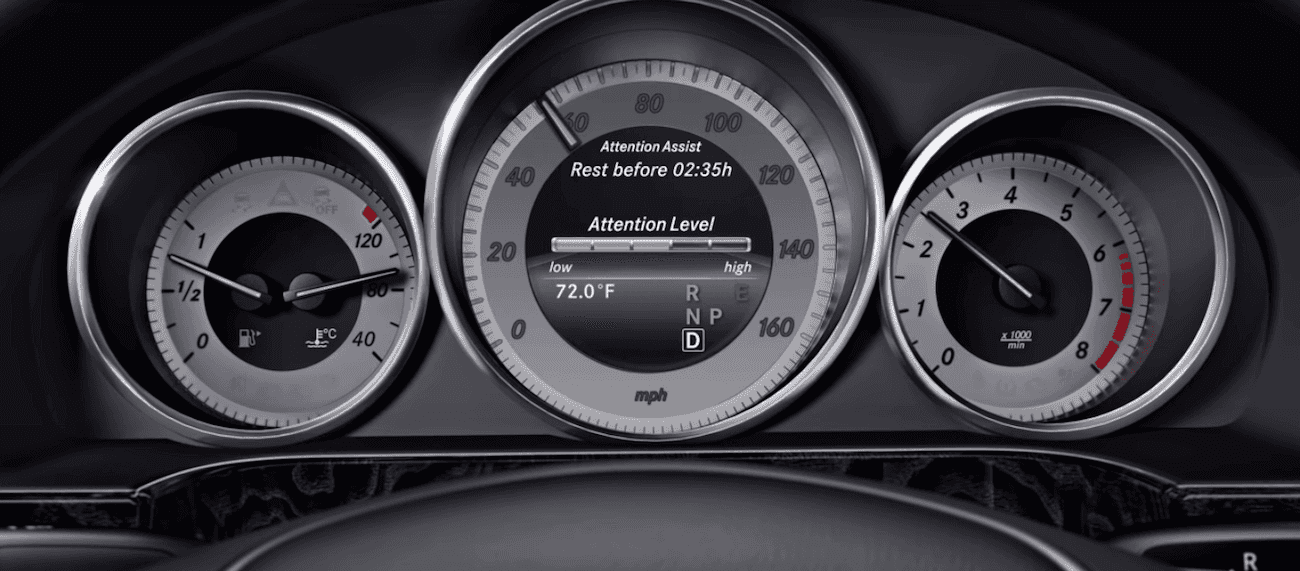 Many have heard talk of the impressive Mercedes-Benz ATTENTION ASSIST® and groundbreaking developments in driver assist technology, but few are familiar with this recent improvement. So, what is Mercedes-Benz ATTENTION ASSIST®?
This industry-first system uses a highly sensitive sensor and algorithm to learn about your particular driving style as you travel around Portland and beyond, subsequently detect movement changes, and can suggest breaks if your driving suggests drowsiness or distractions. See below how this system can work for your Hillsboro travels, learn how to turn off Mercedes-Benz ATTENTION ASSIST®, and find out which new Mercedes-Benz comes equipped with this innovation below.
How Does Mercedes-Benz ATTENTION ASSIST® Work?
What is Mercedes-Benz ATTENTION ASSIST® capable of and how does it take safety technology into the new decade?
Using more than 70 parameters, the system begins evaluating your driving style.
Because of its highly sensitive instruments, this system can detect specific steering corrections that may indicate you're becoming drowsy or unfocused.
In addition, Mercedes-Benz ATTENTION ASSIST® is able to calculate information about your driving environment, how you interact with it and how you're interacting with instruments inside the cabin.
It will alert you to take a driving break, if its systems detect you're reacting sluggishly or with perceived distractions on your drives around Happy Valley.
How to Turn Off Mercedes-Benz ATTENTION ASSIST®
Those interested in knowing how to turn off the Mercedes-Benz ATTENTION ASSIST® system, or how to turn it back on, will find it's simple with a few steps:
On your Driver Information Center on your dash, within the speedometer, you'll notice a coffee cup symbol which indicates your Mercedes-Benz ATTENTION ASSIST® system is on.
Locate your steering wheel controls on the left-hand side, and toggle using the left or right arrow keys through the various options (Trip, Nav., Audio, etc.) until you arrive at DriveAssist.
Press "Ok" on the left-side of your steering wheel, then press "Ok" again to disable (or enable) the Mercedes-Benz Attention Assist® system.
Models Equipped with ATTENTION ASSIST®
On what is the Mercedes-Benz ATTENTION ASSIST® standard equipment? Most of the new Mercedes-Benz vehicles include ATTENTION ASSIST® on the base trim, along with other active driver assist features, including Lane Keeping Assist, Remote Start, DISTRONIC PLUS®, Blind Spot Assist, and PRESAFE. Below is the list of models on that offer this innovative technology:
Cars: C-Class, E-Class, S-Class, CLA, and CLS
SUVs: GLA, GLC, GLE, GLS, and G-Class
Roadsters: SLC, SL, and Mercedes-AMG® GT
Commercial Vans: Standard on all Metris models
Discover Innovation with Mercedes-Benz of Beaverton
Whether Mercedes-Benz ATTENTION ASSIST® is an essential upgrade for you or simply one of many fantastic features equipped on your Mercedes-Benz, our Portland team has the expertise to help you utilize it fully. Contact Mercedes-Benz of Beaverton today to learn more about the technology that makes our vehicles so impressive, and get great service tips like how to change the battery in your key fob from the comfort of your own home!