Mercedes-Benz me®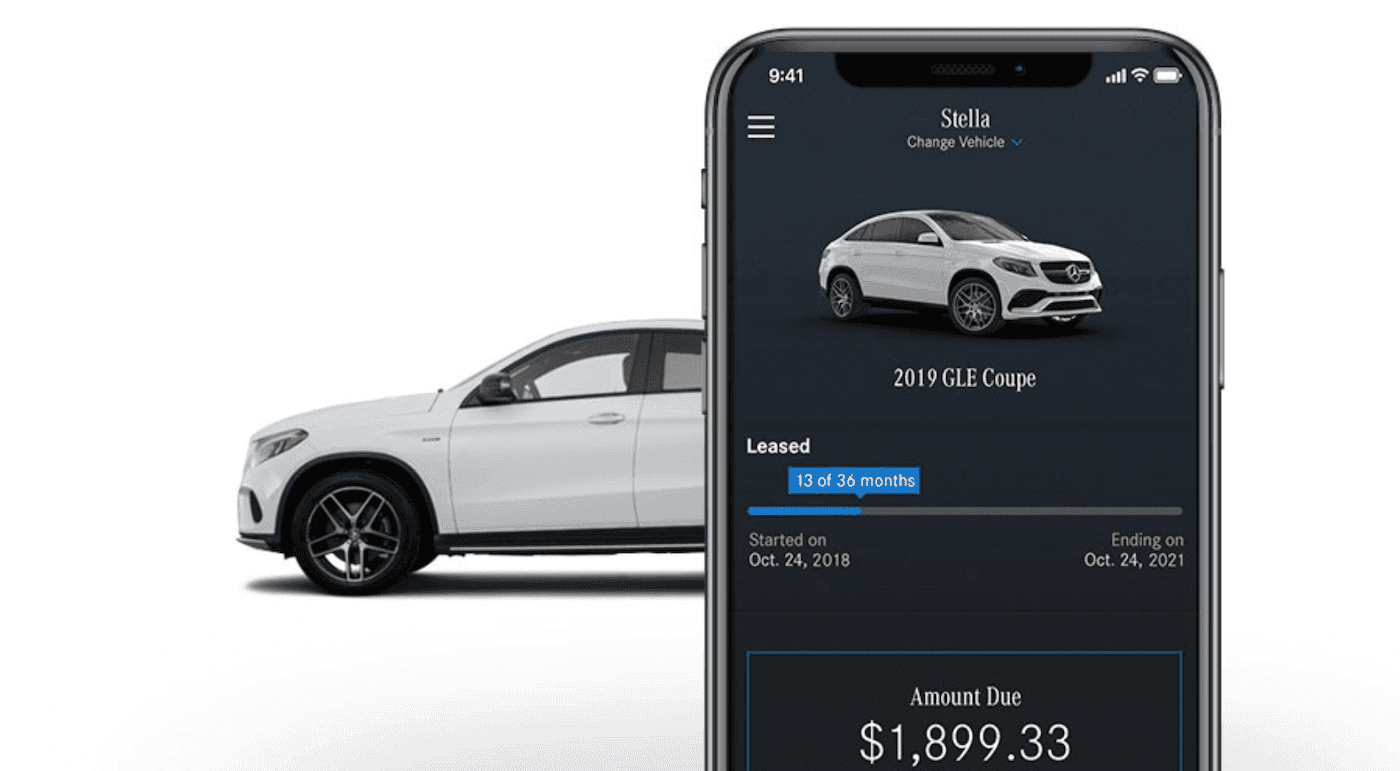 Mercedes me is a mobile app that helps you stay connected in Portland, allowing you perform several important actions with a few simple clicks. Powered bymbrace®, the Mercedes me app is available for Android and iOS smartphones, laptops, and other devices, connecting you to your new or certified pre-owned vehicle at all times. What is Mercedes me? This app helps you:
Contact Mercedes-Benz Roadside Assistance
Schedule service appointments
Watch how-to videos
Access your owner's manual
And more!
What Can You Do with Mercedes me?
How does Mercedes me connect youto your vehicle? This innovative technology combines multiple key functions into one intuitive app, assisting you with all your Mercedes-Benz needs throughout Portland. With Mercedes me, you can:
Stay Up-to-Date with Maintenance: Not sure what's next on your Mercedes-Benz maintenance schedule? Not to worry. The Mercedes me app lets you schedule service when you need it, as well as view a record of past services.
Remote-Access Your Car: Throughmbrace®, Mercedes me allows you to control different vehicle functions; you can remote start your car, remote-lock/unlock the doors, sound the horn, or turn on the lights from afar.
Stay Informed on Leasing or Financing: Whether you leased or financed your car, Mercedes me makes it easier to keep track of payments, as well as other loan or leasing information.
Learn More About Your Car: When you purchase a new or CPO Mercedes-Benz vehicle, you're bound to have questions about its features. Using Mercedes me, you can watch how-to videos and talk to a product concierge to learn more about your car.
What are the Mercedes me Packages?
Mercedes me is available in four variations, which include the following:
Mercedes me connect— gives you remote access to your vehicle via your smartphone or another device and also includes vehicle location tracking.
Mercedes me assist— gives you access to important information about your vehicle, such as tutorial videos and your owner's manual.
Mercedes me finance — links directly to your Mercedes-Benz Financial Services account and provides more information on your leasing or financing offer.
Mercedes me inspire — shares exclusive travel offers, as well as stories from other Mercedes-Benz owners about their travels and experiences with the brand's features and technologies.
Mercedes me FAQ
Need more help with Mercedes me? Mercedes-Benz of Beaverton has you covered.
How do I activate Mercedes me?
There are three ways to activate Mercedes me:
Push the i-Button in your Mercedes-Benz
Visit Mercedes-Benz of Beaverton to complete a subscriber agreement
Call (866) 990-9007 to reach the Mercedes me call center
You'll know your system is activated when the service button lights up after ignition.
How do I become a Mercedes me subscriber? Where is this service available?
Mercedes me is available throughout the United States, though drivers must own a Mercedes-Benz MY16 or newer to have the proper hardware.
How does Mercedes me Concierge work?
The Mercedes me Concierge service provides personal assistance available at the touch of a button, 24/7. This service allows you easy access to a broad range of personalized services fulfilled by a Concierge Specialist which are then billed directly to your credit card.
What are the available Mercedes me Concierge services?
Mercedes me Concierge provides a broad range of convenience perks including but not limited to:
Concert tickets and directions
Unique requests and gift purchases
Medical Help and Safety Support
Assistance gaining access to sought-after events and restaurants
Lost baggage assistance
Airline reservations and ticket purchase
Car rental reservations
Hotel recommendations, reservations and directions
Dining recommendations, reservations and directions
Movie and theater tickets and directions
Sporting event tickets and directions
Wake-up calls
Reminders for birthdays, anniversaries, and other events
Assistance wiring cash
Research and answer questions
Try Out Mercedes me at Mercedes-Benz of Beaverton!
Want to see Mercedes me remote start in action, or are you curious about the Mercedes me costs? Contact Mercedes-Benz of Portland and we'll explain Mercedes me costs and packages. Our team is happy to answer any questions you may have!
More Mercedes-Benz Models & Features
2021 Mercedes-Benz 3rd Row GLE & GLC SUV Trim Options in Oregon & Washington Every vehicle release by Mercedes-Benz ushers in more luxury, capabilities, safety, and advanced technology. And for the 2021 3rd Row SUV options, it's an impeccable reflection of Mercedes-Benz designers and engineers thrilling innovative strengths. You can select your luxury SUV from…

New 2021 Mercedes-Benz MBUX Infotainment System Since its inception in 2018, the Mercedes-Benz User Experience (MBUX) Infotainment System has incredibly revolutionized car performances and heightened user experiences. The second-generation MBUX Infotainment System in 2021 Mercedes-Benz models is more advanced, agile, and versatile. The ability to control this Infotainment tech with natural-speech voice commands, thumbpads on…

New 2021 Mercedes-Benz GLS Model for Sale or Lease in Oregon and Washington Mercedes-Benz of Beaverton brings you the all-around new 2021 Mercedes-Benz GLS model closer to you. It is available for sale and lease in Oregon, Washington, Hillsboro, Tigard, Portland, and surrounding regions. As you check the 2021 Mercedes-Benz GLS inventory, here is what's new…